It's been getting hotter in The Netherlands lately which means loads of people are packing up and traveling to the beach. I don't live close to the beach and I don't see myself going to the beach, but these books could be read in the backyard as well. It's just a summer thing. Let's recommend some books to read while it's hot outside.
Contemporary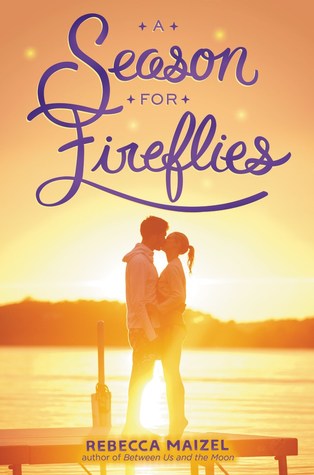 A year ago, Penny Berne was the star of her high school's theater department, surrounded by a group of misfit friends and falling in love for the first time. Now her old friends won't talk to her, her new best friend is the most popular girl in school, and her first love, Wes, ignores her. Penny is revered and hated. Then, in a flash, a near-fatal lightning strike leaves Penny with no memory of the past year—or how she went from drama nerd to queen bee.
As a record number of fireflies light up her town and her life, Penny realizes she may be able to make things right again—and that even if she can't change the past, she can learn to see the magic where she never could before.
Quiet seventeen-year-old Tess doesn't relish the thought of a summertime job. She wants nothing more than to forget the past haunts of high school and have fun with her best friends before the dreaded Year Twelve begins.

To Tess, summer is when everything happens: riding bikes down to the lake, watching the fireworks at the Onslow Show and water bomb fights at the sweltering Sunday markets.

How did she let her friends talk her into working?

After first-shift disasters, rude, wealthy tourists and a taunting ex-boyfriend, Tess is convinced nothing good can come of working her summer away. However, Tess finds unlikely allies in a group of locals dubbed 'The Onslow Boys', who are old enough to drive cars, drink beer and not worry about curfews. Tess's summer of working expands her world with a series of first times with new friends, forbidden love and heartbreaking chaos.

All with the one boy she has never been able to forget.

It will be a summer she will always remember.
Sydney is living in an idyllic bubble—she's a dedicated student with a steady job on the side. She lives with her best friend, has a great boyfriend, and the music coming from the balcony opposite hers is fast becoming the soundtrack to her life. But when Sydney finds out her boyfriend is cheating on her, the bubble bursts. The mysterious and attractive man behind the music, Ridge, gives Sydney hope that she can move on and they begin to write songs together. But moving on is harder than she expects, Sydney can only hope….
Maybe someday…
Historical Fiction
Zenobia, the proud daughter of a Syrian sheikh, refuses to marry against her will. She won't submit to a lifetime of subservience. When her father dies, she sets out on her own, pursuing the power she believes to be her birthright, dreaming of the Roman Empire's downfall and her ascendance to the throne.
Defying her family, Zenobia arranges her own marriage to the most influential man in the city of Palmyra. But their union is anything but peaceful—his other wife begrudges the marriage and the birth of Zenobia's son, and Zenobia finds herself ever more drawn to her guardsman, Zabdas. As war breaks out, she's faced with terrible choices.
From the decadent halls of Rome to the golden sands of Egypt, Zenobia fights for power, for love, and for her son. But will her hubris draw the wrath of the gods? Will she learn a "woman's place," or can she finally stake her claim as Empress of the East?
Before she dies, Velva Jean's mother urges her to "live out there in the great wide world." Growing up in Appalachia in the years before World War II, Velva Jean dreams of becoming a big-time singer in Nashville until she falls in love with Harley Bright, a handsome juvenile delinquent turned revival preacher. As their tumultuous love story unfolds, Velva Jean must choose between keeping her hard-won home and pursuing her dream of singing in the Grand Ole Opry.
Science Fiction
Addison Coleman's life is one big "What if?" As a Searcher, whenever Addie is faced with a choice, she can look into the future and see both outcomes. It's the ultimate insurance plan against disaster. Or so she thought. When Addie's parents ambush her with the news of their divorce, she has to pick who she wants to live with—her father, who is leaving the paranormal compound to live among the "Norms," or her mother, who is staying in the life Addie has always known. Addie loves her life just as it is, so her answer should be easy. One Search six weeks into the future proves it's not.

In one potential future, Addie is adjusting to life outside the Compound as the new girl in a Norm high school where she meets Trevor, a cute, sensitive artist who understands her. In the other path, Addie is being pursued by the hottest guy in school—but she never wanted to be a quarterback's girlfriend. When Addie's father is asked to consult on a murder in the Compound, she's unwittingly drawn into a dangerous game that threatens everything she holds dear. With love and loss in both lives, it all comes down to which reality she's willing to live through... and who she can't live without.
I'm Trella. I'm a scrub. A nobody. One of thousands who work the lower levels, keeping Inside clean for the Uppers. I've got one friend, do my job and try to avoid the Pop Cops. So what if I occasionally use the pipes to sneak around the Upper levels? The only neck at risk is my own…until I accidentally start a rebellion and become the go-to girl to lead a revolution.
These were some of my favourite books over the past couple of years. I think they are perfect to read out in the sun. What are some of the books you would recommend reading at the beach or in your backyard?