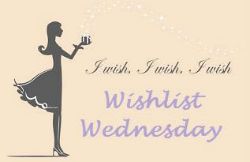 Wishlist Wednesday is hosted by Pen to Paper.
Wishlist Wednesday is a book blog hop where we will post about one book per week that has been on our wishlist for some time, or just added (it's entirely up to you), that we can't wait to get off the wishlist and onto our wonderful shelves.
Title: In A World Just Right
Author: Jen Brooks
Series: Standalone
Publisher: Simon & Schuster Books for Young Readers
First Publication: April 28th 2015
Genre: Young adult fantasy
Synopsis:
High school senior Jonathan Aubrey creates worlds at will. In Kylie-Simms-is-my-girlfriend, he's given himself everything he doesn't have in real life-–the track team, passing grades, and his dream girl–-until one day he confuses his worlds and almost kisses the real Kylie Simms. Now his girlfriend Kylie and the real Kylie are changing, and Jonathan must solve the mystery of his own life to save his love from a gruesome fate.
Goodreads | Amazon
I revel in the cover of this book. Not even joking. I don't know what it is, but if eyes could have orgasms I think I just had twenty. Eyegasms, that is.
Apart from the eyegasmic cover, this book has been on my wishlist for the last month now. The clash between contemporary and fantasy worlds intrigued me. The last year I've been mixing my contemporary reads with fantasy and I find it to be quite pleasant. A book with both of these elements mixed in, must be outstanding. As you can see, my expectations are ever so low.
This is also Jen Brooks' debut novel and I love discovering new authors, which is another reason I need to read this book at some point.
Lori Goldstein (author who has a beautifully designed website) gave this book a five star rating, saying this:
"Jen Brooks's writing is hypnotic. There's an elegance to her prose that doesn't distract from the story. It's fast-paced, and yet her skill with language elevates it to a level that will have you pausing to appreciate the sentences and paragraphs you've just read."
Rhonda Mason (another author) also gave it five stars:
"It's a "must read," by my standards, and definitely worth a reread (or three), which is the highest praise a book can receive."
Stacey Lee (also an author with a mouthwatering website) with an obvious five star rating:
"So well written in a voice that manages to be both easy to read and supremely lyrical."
If a lot of authors give praise to a book, I tend to believe them sooner (which is stupid because they are people just like us, non-authors). It is what it is.
This feature is kind of like torturing yourself. You're pushing all these reasons you want this book in your own face, post it and then you still don't have a copy. How depressing. Let's do it again next week.
What is on your Wishlist Wednesday?